A History Of Innovation
Over 40 years ago, Newall introduced their state of the art Spherosyn linear scale technology to the machine tool industry. Fast forward to today, over 300,000 Spherosyn and Microsyn linear encoders have been installed. Newall linear scales, paired with their market leading DRO Systems, make up the most advanced digital readout solution in the industry, that maximizes productivity and machine efficiency.
Unparalleled DRO Technology
No competitor DRO System can match the durability and reliability of a Newall Digital Readout. All Newall Inductive Linear Encoders feature a truly unique design that addresses all the shortcomings of a traditional glass scale system. By keeping their electrical components covered and protected, Newall linear encoders carry an industry best, IP67 environmental rating, which means they can be fully submersed in water, oil, or coolant, and still provide consistent and accurate readings time and time again.
The Newall Advantage
IP67 rating (NEMA Type 6) Fully submersible
Withstands dust, dirt, oil and other harsh environmental conditions
No mechanical wear characteristics
Requires no cleaning or maintenance
High tolerance to shock and vibration
Easy installation - No backer bar or machined surface required
Application Specific DRO Kits
Newall Digital Readouts and Linear Encoders can be purchased separately or in package configurations. Packages are available for milling, turning, and grinding applications. The largest milling package offered is 16" x 40" and the largest lathe package is 22" x 240". For machines with longer axes travels, you can quickly build your own digital readout kit through our website. Learn how to build your own DRO Kit.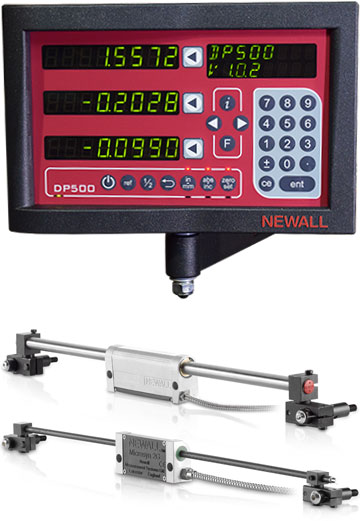 Newall DRO Model Overview
Newall NMS300 DRO
The NMS300 is the newest addition to the Newall DRO family (Replaces the DP500). It is a great low-cost solution for knee mills and tool room lathes. This particular DRO system is only offered in package configuration, so be mindful of the travel limitations. The NMS300 is a great choice for someone looking for a high quality, but low-cost DRO system.
NMS300 Features:
Absolute/Incremental Readings

Inch/Metric Instant Conversion

Switchable Resolutions

Center Find

Radius/Diameter Readings

Datum Present/Zero Reset

Bolt Hole Circle

Line Hole Calculations

Arc Contouring

Pocket Milling

Taper Calculations

Tool Offsets (50)

4 user definable function keys

Programmable Memory (200 per axis)

Segmented Error Compensation

Linear Error Compensation

Reference Point (Digifind)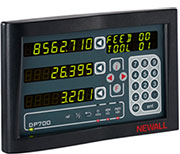 Newall DP700 DRO
The DP700 comes in kits for milling, turning, and grinding applications. At a slightly higher price point than the NMS300, the DP700 digital readout offers a wide range of features that are typically only offered on more expensive DRO units. It is available in 1,2, or 3 axes and comes with an industry best 5-Year Standard/ 3-Year No-Fault Factory Warranty. If you're looking for a high-end DRO system that has a proven track record of accuracy and durability - the DP700 DRO will fit the bill.
DP700 Features:
Absolute/Incremental Readings
Inch/Metric Instant Conversion
Switchable Resolutions
Center Find
Radius/Diameter Readings
Datum Present/Zero Reset
Bolt Hole Circle
Arc Contouring
Polar Coordinate Readings
Line Hole Routine
Taper Calculations
Tool Offsets
Axis Summing
Feed Rate Display
Segmented Error Compensation
Linear Error Compensation
RS232 Output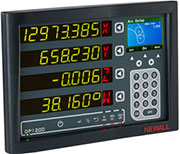 Newall DP1200 DRO
Complete with a larger color display, the DP1200 was built with large travel machine tools in mind. It has all the features needed to boost productivity on your boring mill, VTL, or long-travel lathe. The unit is available in 2, 3, or 4-axis (including rotary / angular). For lathe applications headstock and carriage mounts are available. A Digital Sending Unit (DSU) is another great option offered to simplify cable routing for long travel machines. Newall linear scales up to 510" can be purchased online. If your application requires longer travel length, please contact us for pricing. Like the DP700, the DP1200 also comes with an industry best 5-Year Standard/ 3-Year No-Fault Factory Warranty.
DP1200 Added Features:
Real-Time Tool Path Graphics

Auto-Zoom

Feed Rate Display

Bolt Hole Circle Routine

Line Hole Routine

Arc Contouring

Programmable Memory/Teach

Polar Coordinate Readings

Tool Offsets

Taper Calculations

Axis Vectoring/Summing

Linear and Segmented Error Comp.

Skew

RS232 Output